Simple Baked Apples – The Sweet Heaven
Super delicious and easy to do. Simple Baked Apples are just amazing at any time. Our recipe will immediately water your mouth when you smell them while they're in the oven. It's pure enjoyment. No matter if it's cold or warm outside, you can always make them!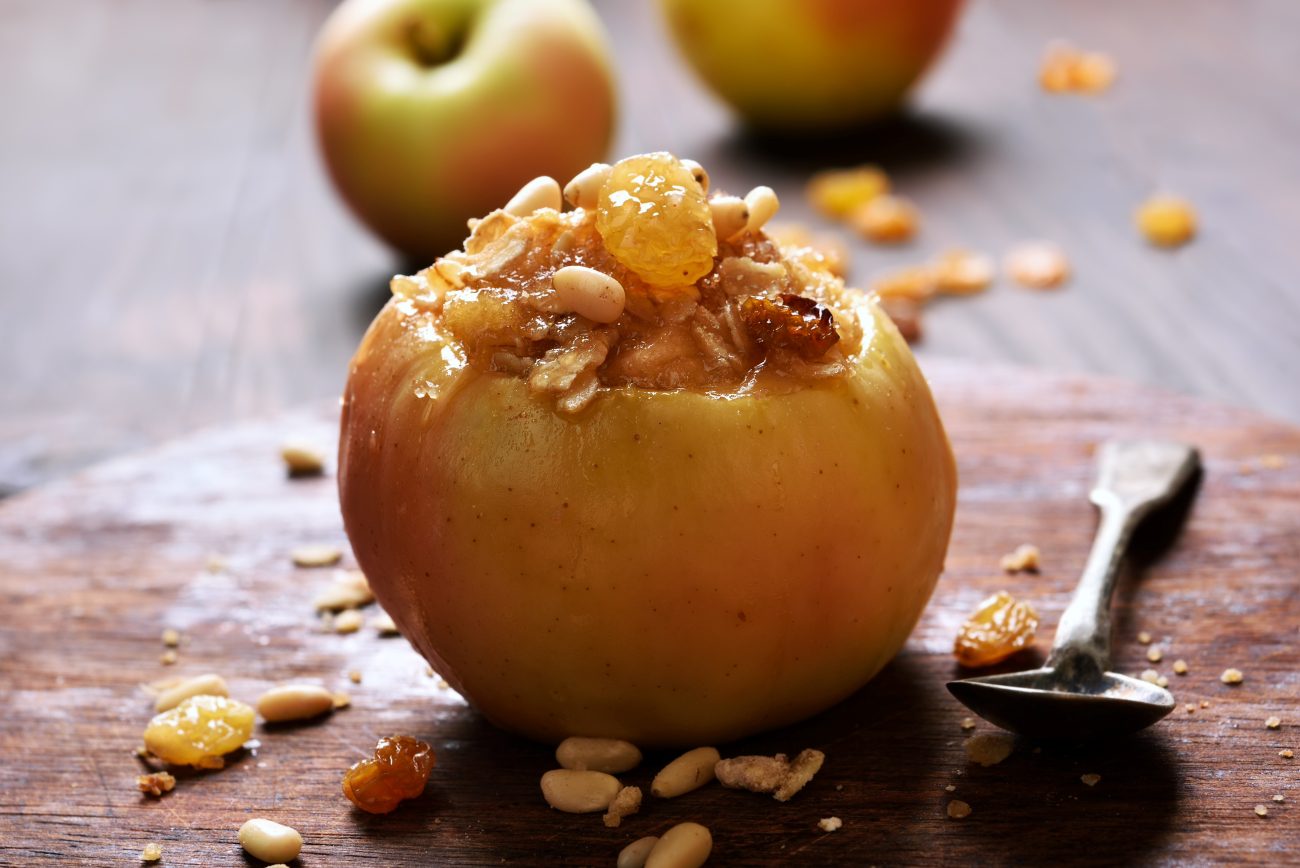 Happiness is one of the most important things in life and a smile on your face is what you get when eating our Simple Baked Apples! Our following recipe will help you a lot to be directly happier! Have fun reading and trying it out!
Ingredients
1

sour apple

1

tsp.

lemon juice

10

g

ground almonds

20

g

raisins

1

tsp.

cinnamon

1

tbsp.

honey

1

tsp.

butter
Instructions
Hollow out the apple with an apple cutter and drizzle with lemon juice

Put some water in an ovenproof dish and put the apple on top

Mix the ground almonds, raisins, cinnamon and honey

Put the whole thing into the hollowed-out apple in the middle

Place a teaspoon of butter on top

Cover the casserole and bake everything in the preheated oven at approximately 180 degrees Celsius for 25 minutes until the apple is nice and crumbly
Nutrition
Calories:
272
kcal
|
Carbohydrates:
60
g
|
Protein:
4
g
|
Fat:
6
g
|
Sugar:
32
g
|
Iron:
2
mg
Tips For The Preparation

You can also easily use melted coconut oil instead of butter. Besides that, it is best to use a casserole with a glass lid, so you can see right away how far the apple is baked. You can also brush the casserole lightly with butter so that nothing sticks to the bottom.
General Information Of The Recipe
Instead of ground almonds, you can also use chopped almonds, ground hazelnuts or other nuts. In addition, why not enjoy it with a vanilla or chocolate sauce? Moreover, you can put some grains like oatmeal or spelt flakes in the simple baked apple to get more satiated.
Frequently Asked Questions
What to do if my apple is still firm inside after baking?
Take a different kind of apple. It is best to use apples that can be stored for a long time. Also, maybe leave it in the oven a little longer.
Can you also eat the simple baked apples without the peel?
Yeah, for sure, you can try that out. It will have fewer vitamins, but will also taste amazing. However, the apple may fall apart without the peel. Just try it out.
Do I always have to use honey?
No, of course not. You can simply use maple syrup or sugar. And if you don't want it that sweet, just leave it out.