Crispy Chewy Chocolate Chip Cookies
Crispy chewy chocolate chip cookies. Better than the classic cookies. Anyone can bake chocolate chip cookies! They are simple by nature and ready in minutes. But not chewy. That why i decided to share my secret recipe for my crispy chewy chocolate chip cookies today!
They are sooo good. I bet you cant control yourself. Once you have tried one. Crispy on the outside but sooo soft from the inside. With the right ingredients and clear instructions, baking can be so much fun! So let's get started.
Crispy Chewy Chocolate Chip Cookies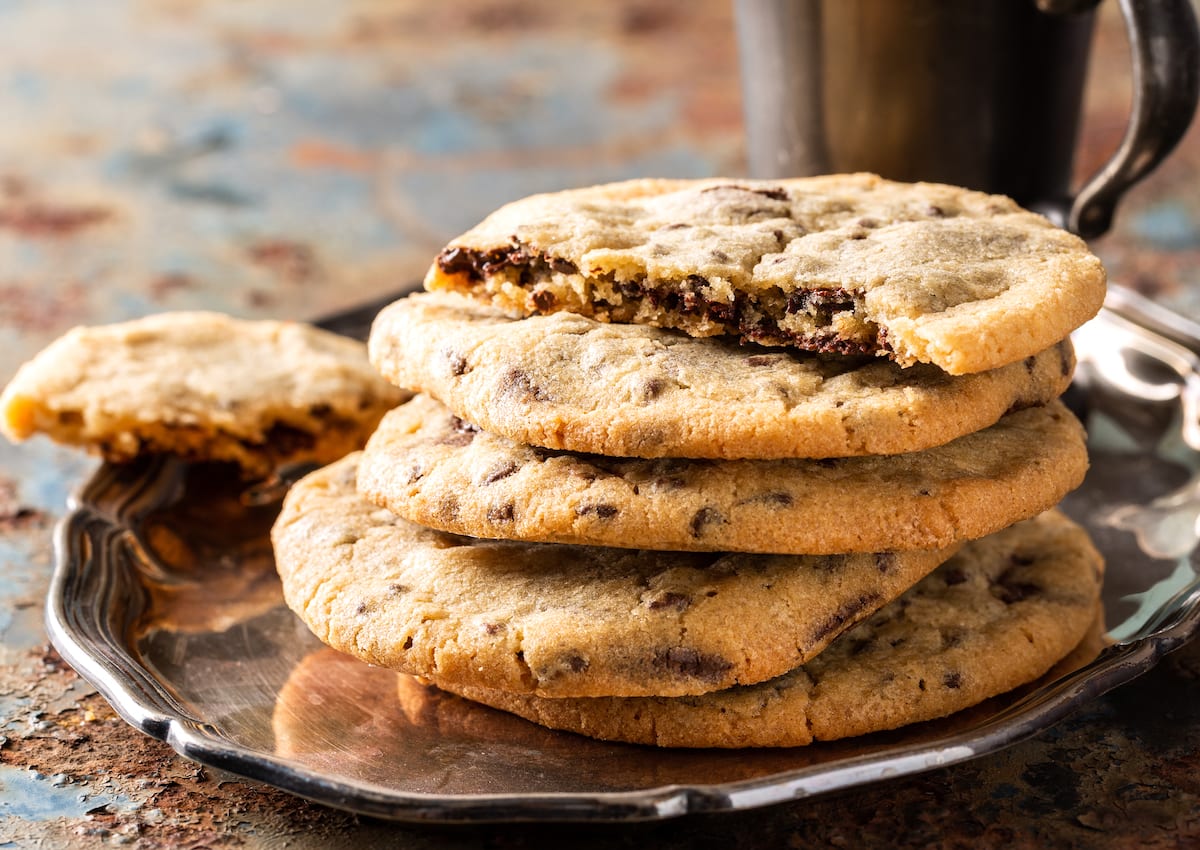 These crispy chewy chocolate chip cookies are just so good. You can't only eat one. Cookies with golden edges and soft, tender base. That'S how we like them. Topped with some chocolate chips and you are good to go.
Ingredients
150

g

butter

Or Earth Balance

100

g

sugar

100

g

brown sugar

1

teaspoon

vanilla extract

2

tablespoons

of water

200

g

flour

1

teaspoon

baking powder

1/2

teaspoon

salt

200

g

chocolate chips
Instructions
Preheat your oven to 350˚. Put the Earth Balance, sugars and vanilla in a bowl.

Using a mixer, beat until light and creamy, about 2 minutes on medium speed.

Add the water and mix until blended. In a separate bowl mix the flours, salt and baking powder.

Turn the speed of your mixer to the lowest setting and add the flour mixture.

Mix until the flour is incorporated. Stir in the chocolate chips.

Place scoops of cookie dough on a cookie sheet and bake for 13 minutes.

Allow to cool a few minutes on the cookie sheet before removing to a cooling rack.
Nutrition
Calories:
245
kcal
|
Carbohydrates:
34.4
g
|
Protein:
2.5
g
|
Fat:
10.7
g
Frequently Asked Questions about Chocolate Chip Cookies
I understand that baking is a tricky task, and you have to be very careful to make crispy and chewy chocolate chip cookies. Many people face some issues and confusion while baking a cake.
You may not have all the ingredients and may want to know the answers to all your queries. Let's go through common questions and their answers for better preparation for your birthday chocolate chip cookies!
Can I use coconut sugar instead of brown sugar?
Yes! You can substitute coconut sugar in the place of brown sugar. However, coconut sugar doesn't have the same moisture as brown sugar, but it has the same taste and looks. This characteristic can impact the overall texture of the baked items.
So, if you are using it, expect slightly dry and dense cookies. Keep the ratio 1.1 for both brown sugar and coconut sugar.  And if you want to avoid the dryness in cookies, use a little oil or butter extra to the mentioned quantity. It will solve the issue altogether.
How to make Chocolate Chip Cookies with sprinkles
A chocolate chip cookie with sprinkles has all the bright colors with the delightful taste of chocolate. It is very easy to make sprinkles chocolate chip cookies. You just need to follow the same recipe as given above but get a 1/4 cup of sprinkles. Add the sprinkles while adding chocolate chips to the dough mixture.
Don't forget to add colors at the surface while garnishing the cookies with sprinkles – spread colors in your life!
Can I freeze the baked chocolate chip cookies?
Yes, why not! You can freeze the cookies for up to 3-4 days or 2-3 weeks. But you have to be careful in the storage process. I will not suggest using cookies placement jars or something like this. Instead, it would help if you used zip-top bags for it.
The process is simple; let the cookies cool down after baking. Place a butter paper in the zip-top beg and then a row of cookies on it. Now, place butter paper on the top of the cookies. Place another cookie row and do it until you find no more place in the bag. Now, zip the bag and place it in the freezer. Look! It was simple and easy.
Can I freeze the dough of chocolate chip cookies?
In the case, you have made the cookie dough more than your requirement and want to store it. You can freeze it for up to 2-3 months.
You just need to make dough balls and put them in a container while separating each row with parchment paper. When you want to use this, thaw them at room temperature and then bake the cookies using the oven.
How long to bake to make chocolate chip cookies chewy?
Many people complain that chocolate chip cookies get hard and un-chewable after baking. It may be owing to over-baking or the hard texture of the dough. You have to be very careful about both the factors. Make the medium dough, which is not so hard and not so soft.
Once you have done it successfully, now pay attention to the time of baking. Generally, it takes 12-15 minutes, along with preheating at 360 degrees, to bake the taste-rich, soft, and crispy cookies. Check for once during the baking and adjust your baking time according.
How do you keep chocolate chips from sinking in the batter?
Toss the chocolate chips in a small quantity of cake mix or flour to avoid sinking in the batter. You can do it not only with the cookies but also for the batter of cakes or muffins.
How do you keep chocolate chips from melting in cookies?
The best way to avoid melting chocolate chips into the batter is to cool down the chocolate chips considerably. Once done, you can put them into the batter just before baking.
Why are chewy chocolate chip cookies so popular?
According to Sandra Lee, "Baking cookies is comforting, and cookies are the sweetest little bit of comfort food. They are very bite-sized and personal," and I completely agree with this saying. Chocolate chip cookies are delicious, crispy treats that let people get nostalgic on their birthdays.