Christmas Chocolate Cookies – A great Joy
Christmas is around the corner, and what suits Christmas better than Christmas Chocolate Cookies? Right, nothing. Our special recipe will provide you with fantastic enjoyment!
Whether you sit together with friends and family or you just want to savor it alone, our cookies will always be there for you. Moreover, don't limit yourself. You can bake these wonderful Christmas Chocolate Cookies anytime you want. You don't need cold weather for it.
Christmas Chocolate Cookies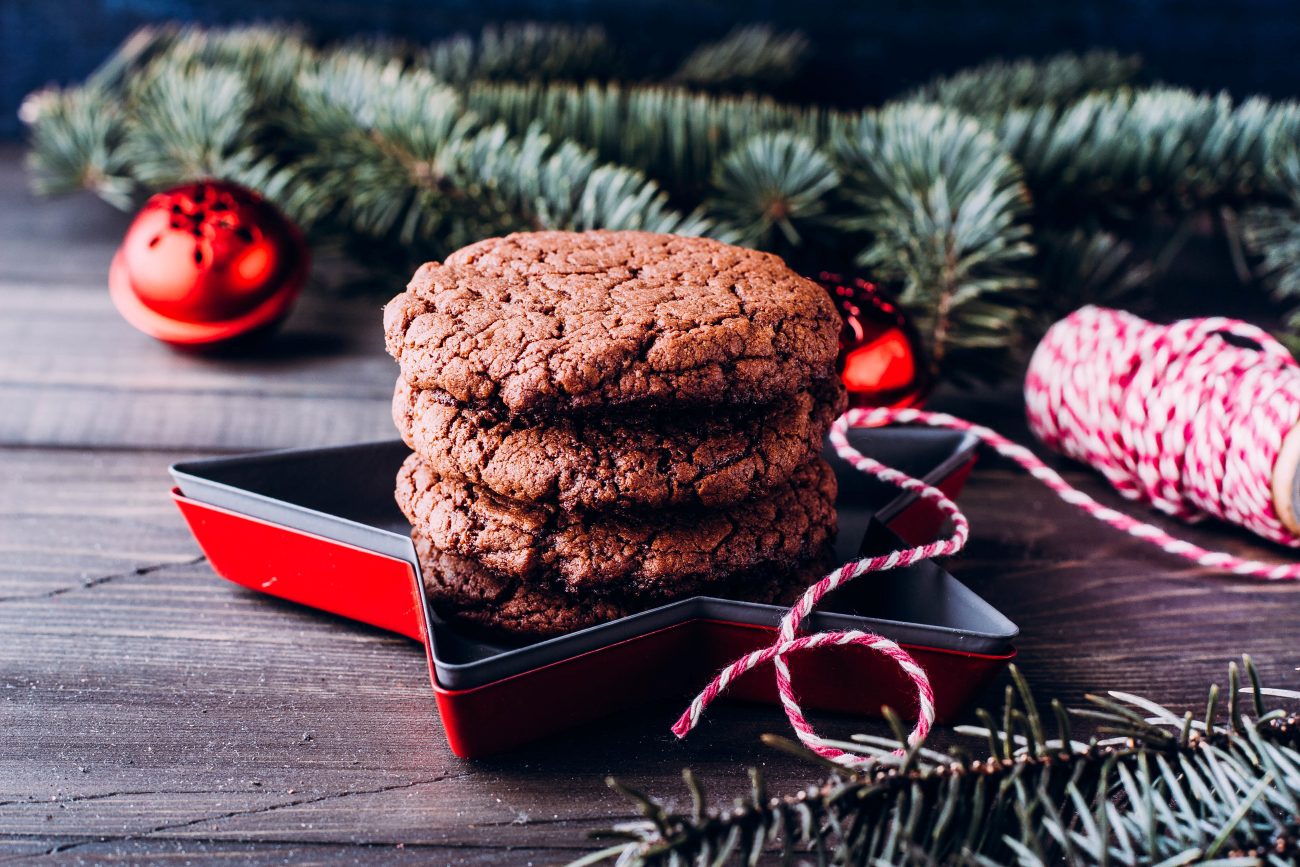 The unbelievable flavour will never disappoint you. Our Christmas Chocolate Cookies are a go-to snack wherever you are. Just put them in your backpack and easily get a smile on your face anytime you want. Next, you'll see the great recipe. Have fun reading and trying it out!
Ingredients
100

g

butter

150

g

sugar

2

eggs

60

g

cocoa powder

250

g

flour

1

tsp

baking powder

100

g

chopped chocolate
Instructions
Preheat the oven to 160 degrees Celsius

Line a baking sheet with parchment paper

Combine the butter with the sugar in a bowl with a mixer until frothy

Add the eggs one after the other and stir them as well so that a creamy mixture is created

Stir in the cocoa very carefully

Mix the flour with the baking powder and add them to the mass.

Stir in the chopped chocolate

Shape a roll from the mass, cut off round talers approximately 1 cm wide with a knife and place them on the baking paper

Let the biscuits bake in the oven at 160 degrees for 10-15 minutes and cool them down a little afterwards
Nutrition
Calories:
516
kcal
|
Carbohydrates:
103
g
|
Protein:
13
g
|
Fat:
9
g
|
Sugar:
46
g
|
Iron:
6
mg
Tips For The Preparation
If you want, you can also coat our Christmas Chocolate Cookies wonderfully with a chocolate couverture to make them extra chocolaty. You can also use liquid chocolate instead of cocoa powder to make them more fluffy.
General Information Of The Recipe
In general, you can enjoy them with a great cup of hot punch or mulled wine. Just comfy yourself at home and savour it how you want it. If you don't feel like eating chocolate again, leave it out and eat them without it. They're still very tasty and give you pleasure in every bite.
Frequently Asked Questions
What to do if the cookies are too hard?
Don't leave them in the oven for too long. Still bake at 160 degrees, but check the hardness regularly every few minutes.
The dough is not easy to work with, what can I do?
Take the butter out of the fridge a few hours beforehand and use more of it.
Can you also cut out the cookies?
Yeah, sure. To do this, place some of the dough on a baking mat, roll it out thinly with a rolling pin and cut out with cookie cutters as desired. Please note that the baking time may then be shortened, because the cookies are thinner.