Strawberry Sorbet – A Wonderful Taste
The sun is shining, the grass is green, the smile is on your face, only one thing is needed right now. It's this strawberry sorbet to sweeten up your perfect summer day. Enjoy it outside or inside, with friends or alone. It's always a pleasure.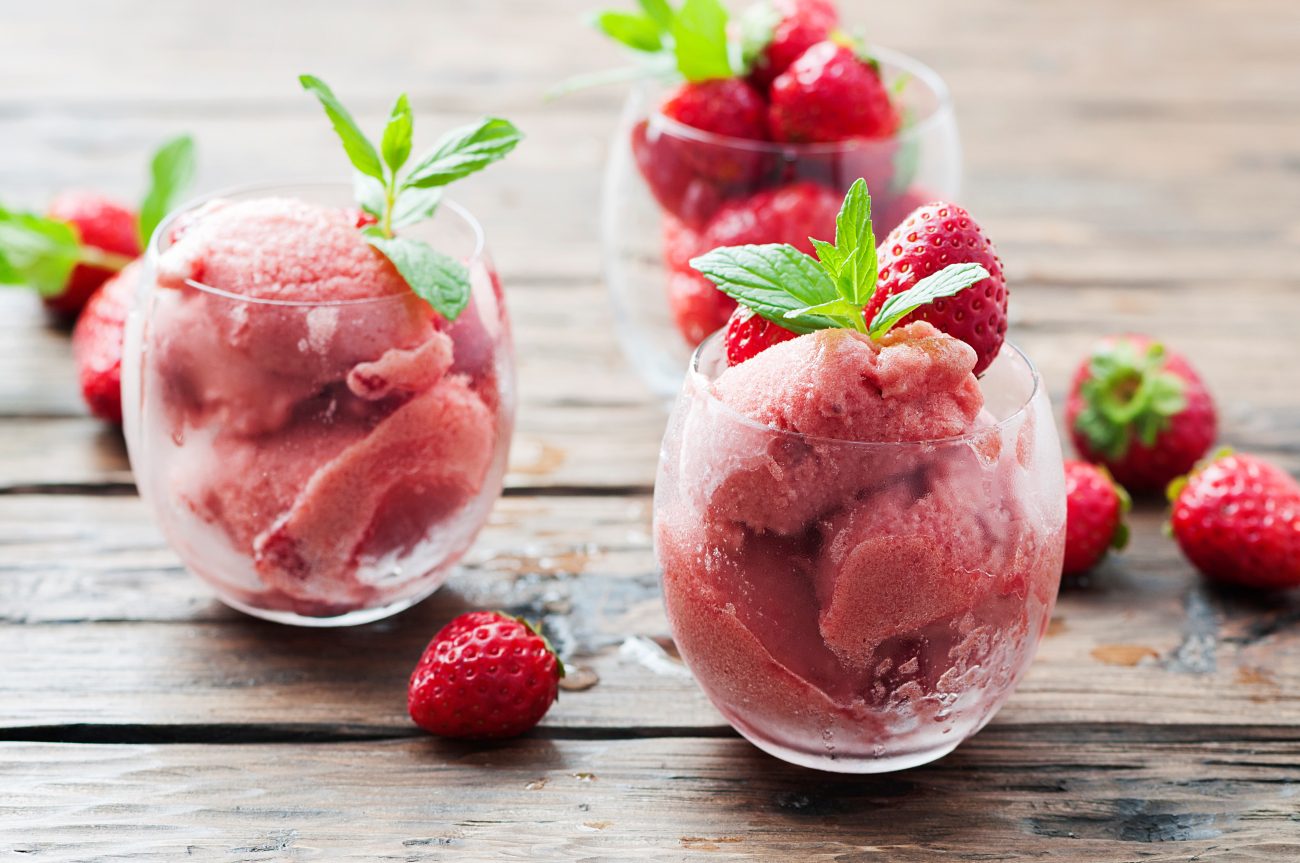 This strawberry sorbet is the perfect option to bring even more happiness to your day. Sit outside and just love life with pure enjoyment.
Ingredients
300

g

strawberries

100

ml

water

100

g

sugar

1

lemon
Instructions
Wash the strawberries and puree them with a blender.

Squeeze the lemon and add the juice.

Boil the water with the sugar and let it boil until the sugar is dissolved.

Then let it cool down.

Put everything together and pour it into an ice cream maker.

Freeze the mixture in the ice cream maker for 1 hour.
Nutrition
Calories:
129
kcal
|
Carbohydrates:
33
g
|
Protein:
1
g
|
Fat:
1
g
|
Sugar:
29
g
|
Iron:
1
mg
Tips For The Preparation
The recipe can be changed individually. For example, you can use honey or syrup instead of sugar or mix it with sparkling wine instead of water. If you don't have an ice cream maker at home, pour the mixture into a large bowl and put it in the freezer.
General Information Of The Recipe
If you prefer a light frozen strawberry sorbet, quarter the strawberries and freeze them in a freezer bag for 2 hours. Then take it out, let it thaw for 10 minutes and puree it together with the water syrup with a fork.
Frequently Asked Questions
What to do if the sorbet forms a lot of ice crystals in the freezer?
If you prefer to make the sorbet in the freezer, you should stir the mass once every half an hour so that no ice crystals form.
Can you make some creamy strawberry sorbet, too?
Yes, if you prefer it creamier, you can refine this sorbet with cream or yoghurt. The cream should be whipped beforehand so that it can be easily folded in.
What is the difference between a sorbet and a sherbet?
A sorbet consists of fruit and water without cream while a sherbet is made with cream or milk. The fruit content of the sorbet should be at least 25%. For citrus fruits, 15% is enough.