Pecan Coffee Cake – More Than Just A Cake
For all coffee or cake lovers. This is what you are looking for. Our pecan coffee cake has the refined aromatic punch of freshly ground Colombian coffee paired with the perfect fluffy texture of a classic sponge cake. Just sit, relax and take a bite. You'll find peace with it.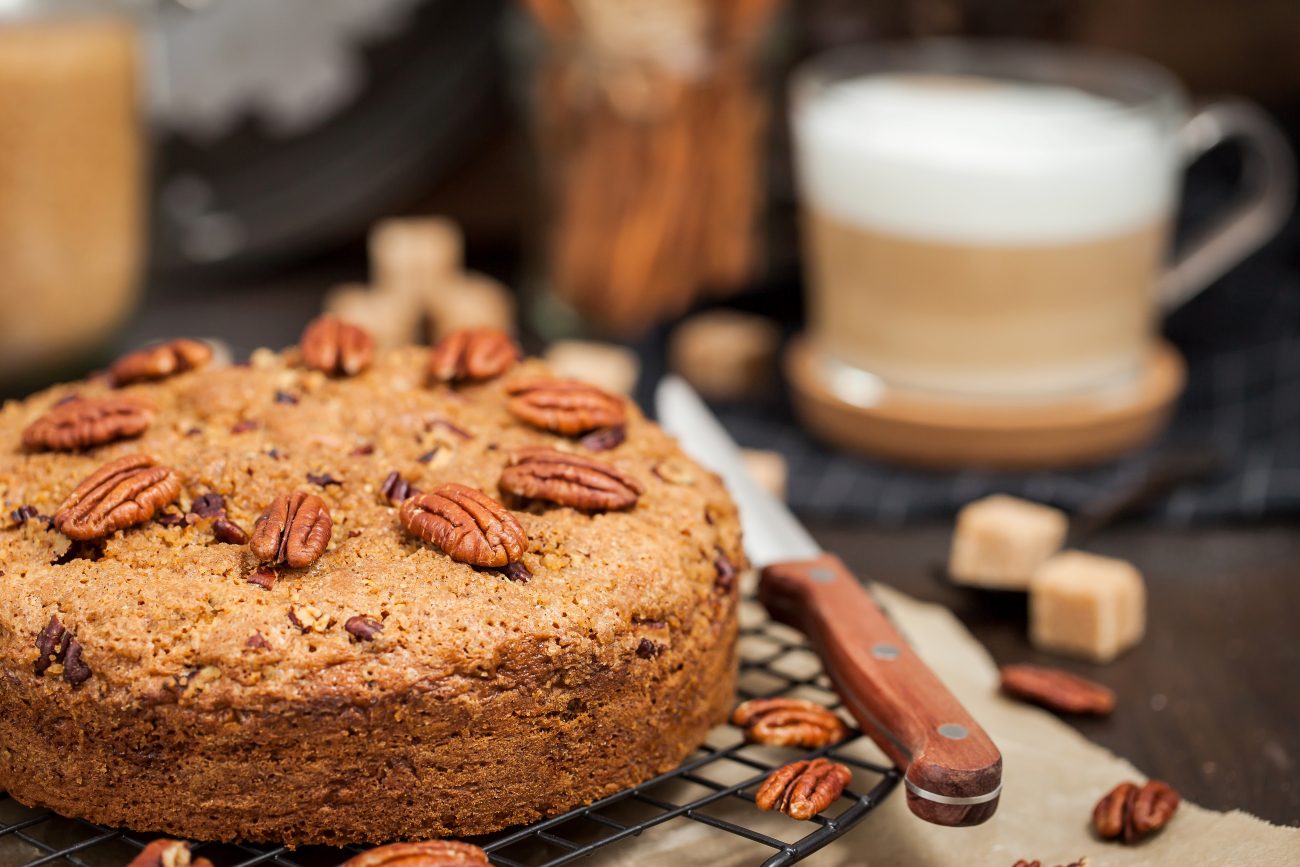 No matter if you want to enjoy it alone or invite some friends. The Pecan Coffee Cake is simply delicious and so satisfying. In the following article, you'll find our special recipe. Have fun reading and trying it out!
Ingredients
200

g

soft butter

200

g

powdered sugar

4

eggs

100

g

grated pecan nuts

15

piece

pecan nuts

1

tsp.

cinnamon

250

g

flour

1

pack of baking powder

100

ml

cold Colombian coffee

1

tbsp.

maple syrup

1

tsp.

water
Instructions
Beat the butter, powdered sugar and eggs until frothy

Then mix in the cinnamon and the grated nuts

Mix in sips with the coffee

Then mix the flour with the baking powder and sieve over it

Pour the batter into a greased baking pan

Bake in a preheated oven at 180 degrees Celsius for about 50 minutes

After baking, let the cake cool in the tin for about 10 minutes and then carefully tip out of the tin

Dilute the maple syrup with warm water and spread it on the still-warm cake

Let this dry briefly and then spread the whole pecans on top
Nutrition
Calories:
529
kcal
|
Carbohydrates:
53
g
|
Protein:
8
g
|
Fat:
33
g
|
Sugar:
26
g
|
Iron:
2
mg
Tips For The Preparation
The baking time can vary depending on the stove. Always do a stick test, then you know when the pecan coffee cake is ready. Instead of water, you can dilute the maple syrup with rum. You can also use different nuts for a divergent flavour.
General Information Of The Recipe
The pecan coffee cake tastes best fresh. You'll get a perfect combination if you eat it while drinking a cup of hot coffee. As a variation, you can also add 1 tablespoon of cocoa. Cocoa and nuts go wonderfully together.
Frequently Asked Questions
What to do if the pecan coffee cake cannot be removed from the mould?
You can line the mould with breadcrumbs after greasing it, so the cake comes out of the mould more easily. Or you don't have a silicone baking pan.
What can I do if my dough won't rise?
Separate the egg into yolks and whites. Beat the egg whites very stiffly and lift them loosely under the dough at the end. This gives the dough volume and lightness.
What to do if my dough is still soggy inside?
Every oven bakes differently. Try reducing the temperature a bit, but increase the baking time to 60 minutes. Then leave to stand in the switched-off oven for about 10 minutes. Cover with baking paper if necessary.