Lemon Pudding Cake – A Soft Pleasure
Just imagine coming home and eating a super soft and tasty cake or even starting your day with it. You can have all that with our amazing lemon pudding cake.
It's incredibly versatile as you can always eat it. You can also take it anywhere you go and take a slice or more of it. As well as everyone who will take a bite of it will immediately love it.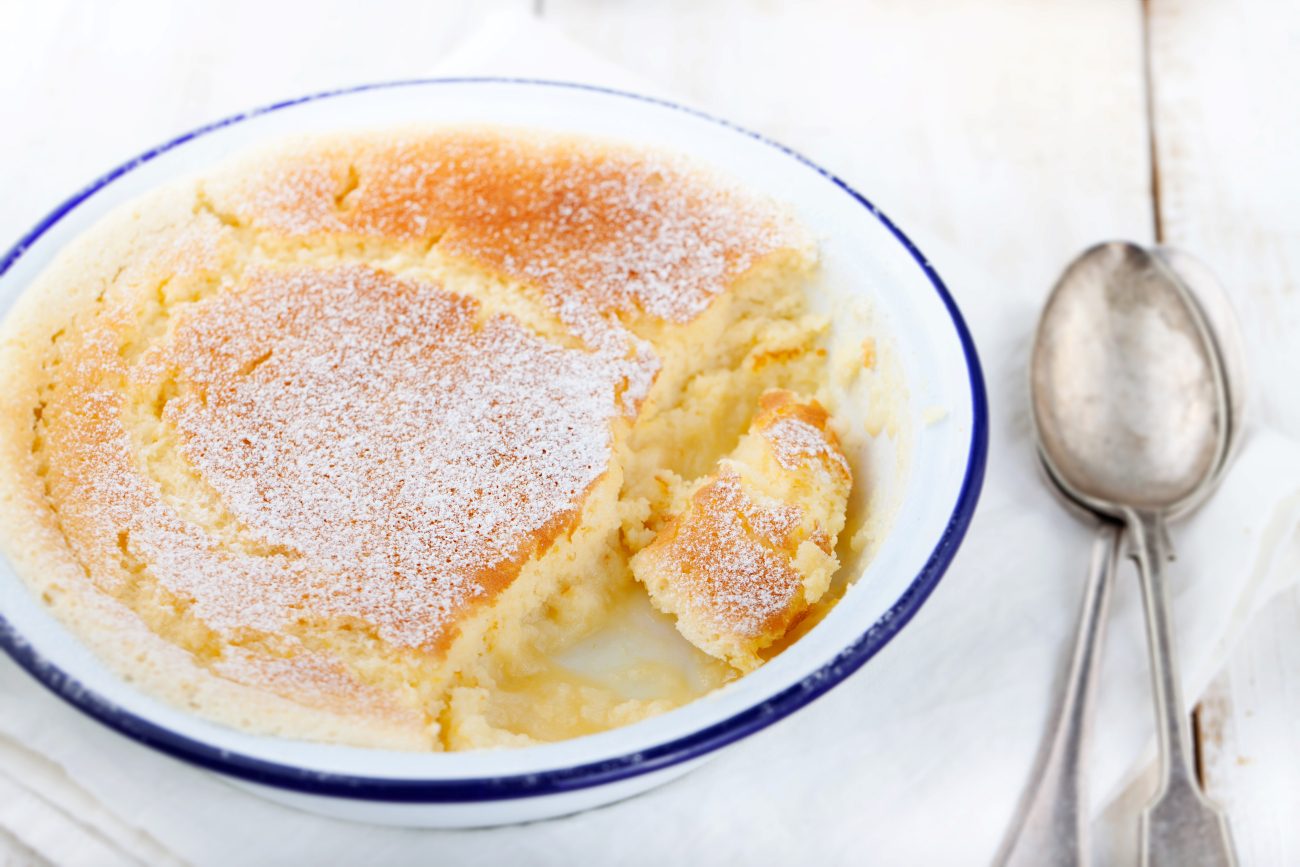 One of the greatest feelings is when you are coming home from something and knowing you got a great cake at your house. Our lemon pudding cake is one of the best foods you can have for that. In the following article, you'll see our super recipe for it. Have fun reading and trying it out!
Ingredients
4

lemons

200

g

powdered sugar

4

eggs

4

tbsp

hot water

1

packet

vanilla sugar

1

packet

vanilla pudding

1

glass

lemon curd

some

lemon zest

200

g

flour

2

tsp.

baking powder
Instructions
Separate the eggs and beat the egg whites until stiff

Beat the egg yolks with 4 tablespoons of hot water

Add powdered sugar as well as vanilla sugar and stir until a creamy mixture is formed

Add 2 tablespoons of lemon curd and stir in 1 pack of vanilla pudding until there are no more lumps

Squeeze the 4 lemons, pass them through a sieve and also add them to the mixture

Then add the lemon zest

Pour the stiff egg whites onto the dough and afterwards sift the flour mixed with the baking powder

Fold in quickly and immediately pour half of the dough into a round shape lined with baking paper

Bake in the oven at 180 degrees for about 10 minutes

When a solid layer has formed on top, remove the mould and carefully brush with 2 tablespoons of lemon curd

Pour the rest of the mixture on top and put it back in the oven

Bake for another 10 minutes

Take it out and let it cool down

Then take it out of the mould and loosen the baking paper

Dust with powdered sugar
Nutrition
Calories:
332
kcal
|
Carbohydrates:
67
g
|
Protein:
7
g
|
Fat:
5
g
|
Sugar:
43
g
|
Iron:
2
mg
Tips For The Preparation
You can also bake the whole dough first, then let it cool down, cut through and spread the lemon curd on top. Subsequently, place the top half on the top, dust with powdered sugar and enjoy. You can as well cook a vanilla pudding with milk or almond milk, refine it with grated lemon zest and add it to the mixture instead of the lemon curd.
General Information Of The Recipe
Lemon curd is an English lemon cream made from lemon juice, sugar, butter and eggs. Lemon curd can be bought ready-made in a glass or made by yourself.
Frequently Asked Questions
What to do if my dough is too firm?
Don't stir the mixture for too long, otherwise, the dough will be stiff and firm.
What can I do if the lemon pudding cake is not rising?
Line the pan with baking paper and not with butter, otherwise, the dough will hang in the pan and won't rise. Make sure that no fat gets on the baking pan.
What to do if the egg white does not harden?
The mixing bowl must be free of grease. First, beat the egg white and then the mixture with the egg yolk.