Sprinkle Cake – Not Only For Birthdays!
Why would you always wait until there's a special occasion like a birthday to eat a sprinkle cake? Let me tell you something, you can bake and enjoy sprinkle cakes anytime you want. Don't feel forced to limit it to only a few times a year. Just go for it anytime you feel like it! We made our overwhelming version of the sprinkle cake for your pleasure.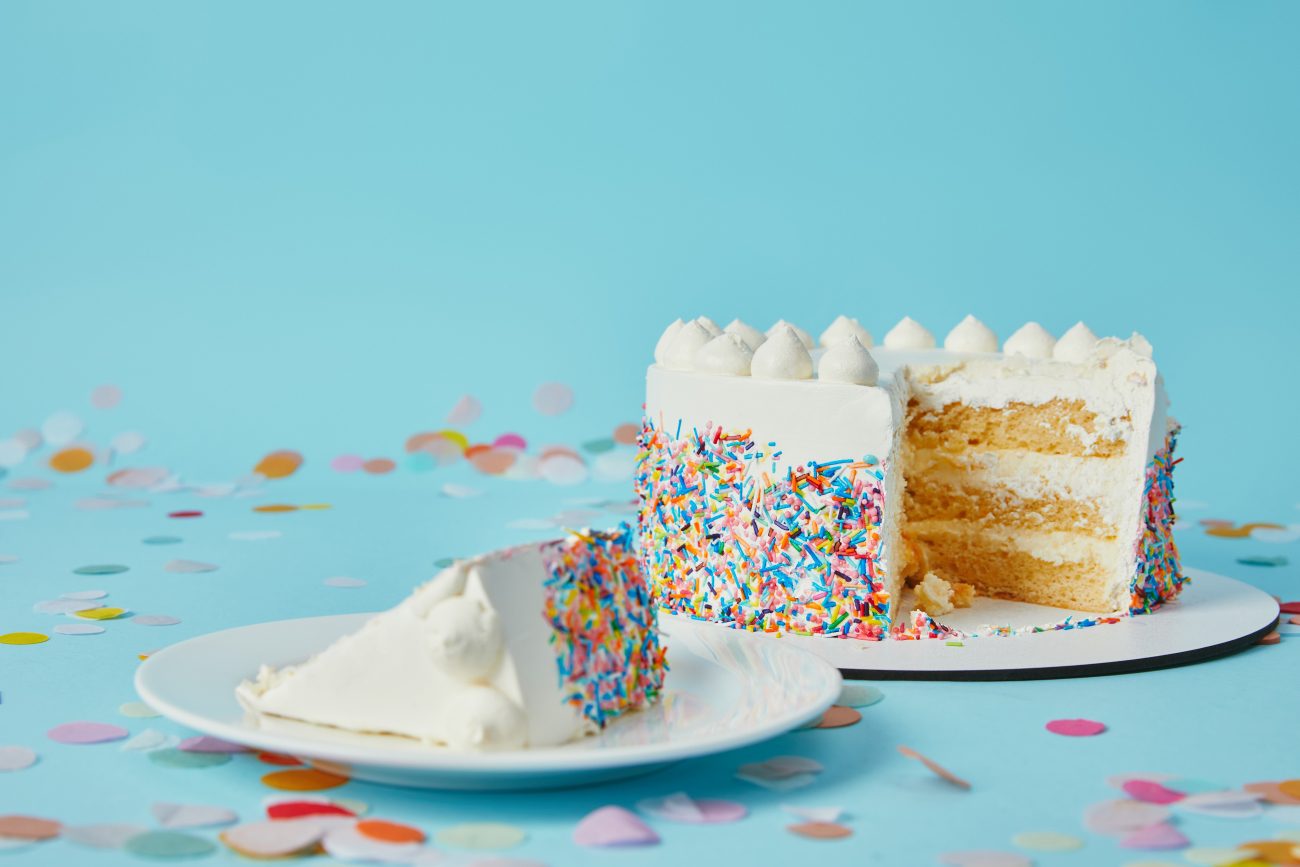 You guys know, we humans, we like to see colours. They're exciting us. When we see a cake with a lot of colourful sprinkles spread all over the top, it catches us immediately. We want to taste it. We had that in mind, so in the following article, we made this special recipe for you. Have fun reading and trying it out!
Ingredients
200

g

flour

100

g

starch

1

packet

baking powder

1

pinch

of salt

250

g

soft butter

100

g

sugar

1

packet

vanilla sugar

4

eggs

250

g

yoghurt

some

lemon zest

1

tbsp.

lemon juice

1

packet

vanilla sugar

2

tbsp.

sugar

½

l

milk

200

g

soft butter

250

ml

whipped cream

1

packet

cream stiffener

100

g

colourful sugar sprinkles
Instructions
Beat the butter, sugar and eggs until frothy

Stir in vanilla sugar, salt, lemon zest, lemon juice and yoghurt

Mix the flour with baking powder and starch

Sieve over it

Carefully fold in everything

Pour into a round baking pan lined with baking and bake at 160 degrees Celsius for about 35 – 40 minutes, until the top looks golden yellow

After baking, take the cake out of the mould and let it cool down.

Cut twice and put each layer aside

Mix the pudding powder with the sugar in a cup with 2 tablespoons of milk

Bring the rest of the milk to a boil in a saucepan

Beat the mixed pudding powder under the milk with a whisk and bring to the boil, so that a thick mass is formed

Then let the pudding cool down briefly and cover with cling film to prevent the skin from forming

In the meantime, stir the butter until frothy

Carefully work in the cooled pudding

Subsequently, apply part of the buttercream to the bottom of the cake

Place the second cake base on top and also brush with the rest of the buttercream

Finally, put the last cake base on top

Whip the cream firmly with the cream stiffener and spread it all around the cake

Decorate the edge with colourful sugar sprinkles

If you like it even more colourful, also sprinkle them on top

Spread small dabs of cream on top of the cake
Nutrition
Calories:
793
kcal
|
Carbohydrates:
59
g
|
Protein:
10
g
|
Fat:
59
g
|
Sugar:
36
g
|
Iron:
2
mg
Tips For The Preparation
You can refine the dough with 50 g cocoa powder but then stir in a little milk, as the cocoa makes the dough firmer. If you want, you can round off the cream with eggnog. And if you don't like buttercream, the cake also tastes great with an egg liqueur on the inside and outside.
General Information Of The Recipe
Use as many sprinkles as you want. This is your cake. Do it how you want it. And of course, this sprinkle cake is still an amazing birthday cake, you just don't have to only eat it on such special occasions. You can also try out different sizes of it. Why not make a really big sprinkle cake or a few smaller ones? Unfold your creativity.
Frequently Asked Questions
What to do if my whipped cream is too firm and cannot spread?
Don't beat the cream for too long, otherwise, it will turn into butter.
What can I do if the cream does not set?
Pour the cold cream into a fat-free bowl. Whip the cream lightly, then add the cream stiffener and continue to beat.
What to do if the buttercream won't get creamy?
Gradually stir in the butter in several small portions, preferably a spoon at a time, into the cooled pudding mixture.