Blackberry Cake – A Dark Wonder
So, this is amazing. Blackberries are not only super delicious, but they are also very healthy. And you know what? You can make a full cake out of it, which makes it even tastier. You will have a great mouth-watering blackberry cake which gives you so much pleasure.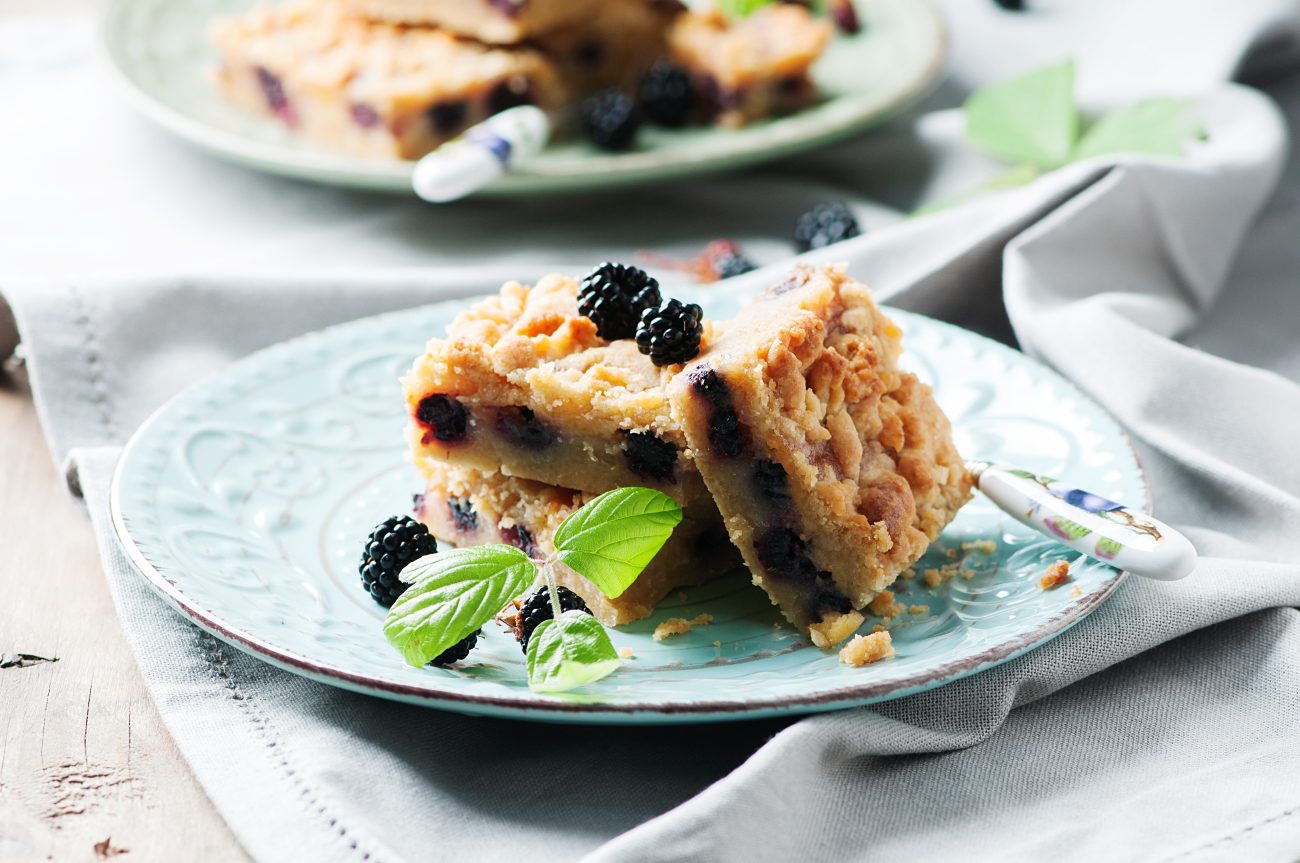 This is the perfect cake if you go out and meet people because they might ask you what you have for food and you tell them that it's a blackberry cake. This already sounds so amazing that everyone wants to try it out. Even better is that you can also easily bake it and enjoy it at home!
Ingredients
500

g

blackberries

200

g

butter

200

g

sugar

3

eggs

250

g

curd

1

lemon

500

g

flour

1

packet

baking powder

100

ml

milk

200

g

butter

200

g

sugar

250

g

flour
Instructions
Wash the blackberries and drain well in a sieve

Mix the butter, sugar and eggs with a mixer until frothy

Add the curd, juice and the zest of the grated lemon

Mix the flour with the baking powder and sieve over the mixture

Stir everything and gradually add the milk

For the crumble, knead the butter, sugar and flour in a bowl with your hand and crumble so that small crumble balls form

Spread the dough on a baking sheet lined with baking paper

Spread the well-drained blackberries on top

Cover the blackberries with the finished sprinkles

Bake in the preheated oven at 180 degrees Celsius for about 45 minutes

Take out after baking and let cool

The cake can then be cut into square pieces
Nutrition
Calories:
524
kcal
|
Carbohydrates:
107
g
|
Protein:
14
g
|
Fat:
5
g
|
Sugar:
45
g
|
Iron:
5
mg
Tips For The Preparation
To make the crumble for the blackberry cake, you can also let the butter melt in a saucepan, then add the sugar and finally knead in the flour. The crumbles taste particularly good if you knead in 1 tablespoon of cinnamon.
General Information Of The Recipe
Fresh blackberries are best. You can also use frozen berries, but these have to be drained especially well. Other fruits are also suitable, such as cherries. Both, fresh and cherries from the jar. But you can also use apples and make an apple cake out of them.
Frequently Asked Questions
What to do if the berries immediately sink into the cake batter?
Use less milk so that the dough is firmer. Dust the berries briefly with flour and then distribute them.
What can I do if my crumbles are getting too hard?
Reduce the baking temperature to 160 degrees and adjust the baking time. Each stove is set differently from the temperatures. Cover the cake with baking paper before the crumbles turn too brown. They should stay nice and light.
What to do if my crumbles don't stay in shape while baking?
Use cold butter and don't knead the crumble for too long. It is best to put it in the refrigerator afterwards. This way they stick together better and don't lose their shape when baking.