Pineapple Sunshine Cake – A Summer Feeling
No matter what time of the year we have, you can always get a great summer feeling with our pineapple sunshine cake. It tastes so creamy and super delicious. Take it anywhere you go and it will be a hit in any case.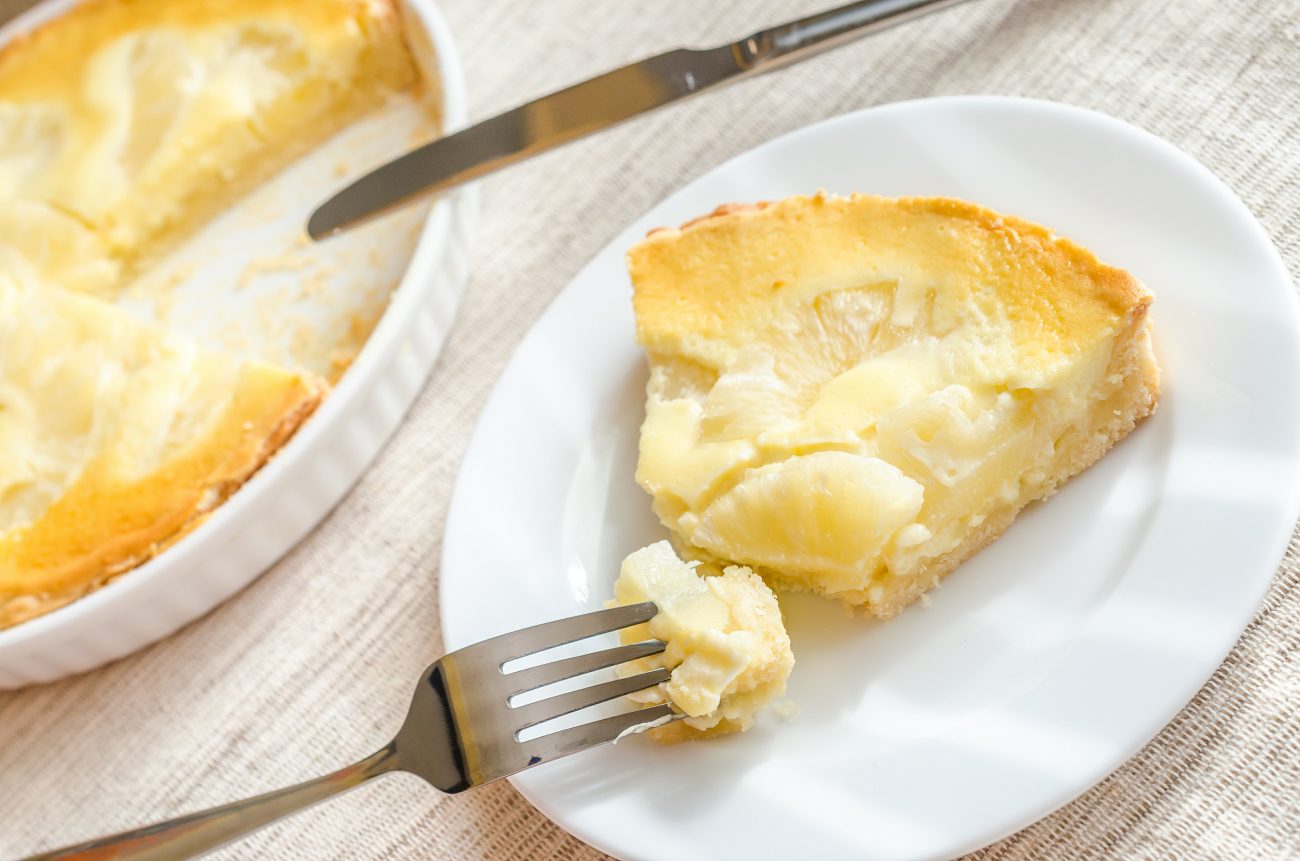 Fruity, fresh and mouth-watering. That's a summary of this pineapple sunshine cake. Just enjoy it when you want that extra flavour on your tongue. In the following article, you'll find our special recipe. Have fun reading and trying it out!
Ingredients
150

g

butter

100

g

sugar

3

eggs

250

g

flour

1

lemon

500

g

curd

100

ml

sunflower oil

1

package

custard powder

150

g

sugar

4

slices

pineapple
Instructions
Place the butter, sugar, egg and the zest of a grated lemon on a baking mat and knead with your hands to make a shortcrust pastry

Wrap in plastic wrap and put in the refrigerator for about 15 minutes

Mix the curd, custard powder, sugar and eggs in a bowl

Add the juice of one lemon

Slowly stir in the oil

Take the shortcrust pastry out of the fridge and roll it out on the baking mat so that it fits into a round baking pan

First press the shortcrust pastry into a greased baking pan and also line the edge of the baking pan with shortcrust pastry

Cover with the fluid curd mixture

Bake in a preheated oven at 180 degrees Celsius for 30 minutes

When a light, firm layer has formed on top, take the cake out of the oven and decorate with the halved pineapple pieces

Then bake everything again for about 20 minutes

Leave the cake in the oven for 10 minutes with the oven switched-off
Nutrition
Calories:
501
kcal
|
Carbohydrates:
73
g
|
Protein:
13
g
|
Fat:
19
g
|
Sugar:
37
g
|
Iron:
3
mg
Tips For The Preparation
You can also distribute the fruit under the curd mixture before baking and bake it for the entire time. This makes the pineapple sunshine cake even juicier inside. The baking pan can also be lined with baking paper. As a result, everything stays compactly together and the fluid coating does not penetrate through the mould.
General Information Of The Recipe
If you don't like pineapples, you can replace them with cherries or apples. Also, different kinds of berries suit perfectly. As an alternative to taste, add a shot of eqq liqueur to the curd mixture. This will give it another flavour.
Frequently Asked Questions
Is fresh pineapple or from a can better?
The canned pineapple is best because it's sweeter.
What to do if my shortcrust dough won't roll out?
Do not leave it in the refrigerator for too long. No longer than 15 to 30 minutes.
What can I do if the curd mass is not firm after baking?
It's best to leave the cake in the switched-off oven overnight. The next morning it can be cut wonderfully.